Cortex Performance Programmer By Superchips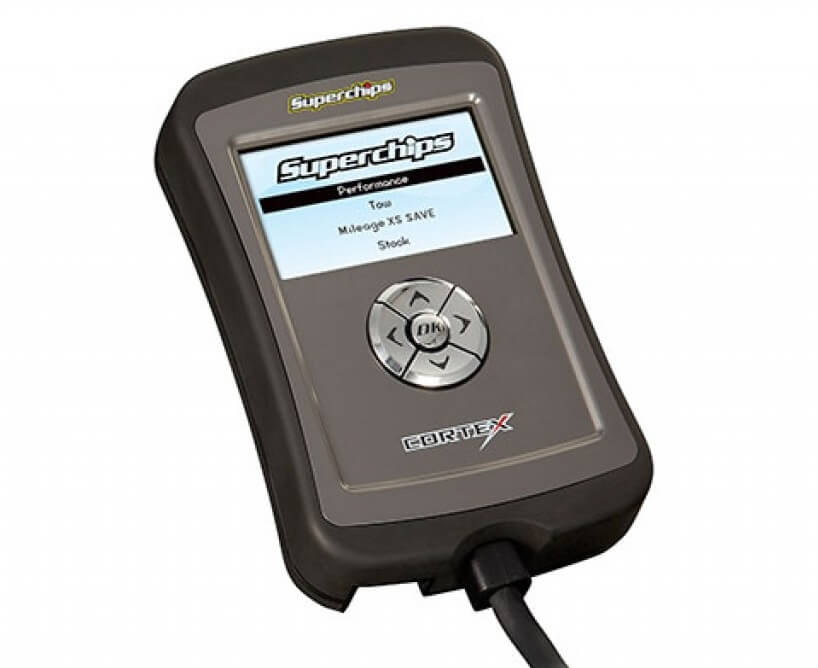 Cortex by Superchips is the hand held vehicle programmer and diagnostic tool your mother warned you about. It's wicked and mean, and if you're not ready for seat-cover-sucking power, then turn tail and run.
Simply stated, Cortex from Superchips is the meanest street-legal programmer you can buy with an industry-first two-year powertrain warranty. Want more power and better drivability for your Duramax, gas truck/SUV, Cadlillac CTS-V, Corvette, Camaro, GTO, G8 GT, Cobalt SS, HHR SS, Solstice GXP, Sky Redline or Trans Am? Check out Cortex which includes multiple tunes with dyno-proven power and advanced data acquisition. Cortex is also the only programmer on the market that comes with an industry exclusive two-year vehicle powertrain warranty.
Cortex pumps up the performance by as much as 318 lbs.-ft of torque and 154 horsepower at the rear wheels! That's more torque than your neighbor's wimpy Kia makes in total. And the engineers at Superchips give you more power throughout the driving range, not just at wide-open throttle like some of the wannabees.
Superchips is so confident you will be satisfied with the Cortex that they guarantee it! If for any reason, you are not completely satisfied within 30 days after your purchase of a new Superchips Cortex ("Product"), you may return it to the place you bought it for a full refund of the purchase price. This Guarantee does not apply to Products purchased from auctions nor does it apply to Products purchased used. Follow these procedures to get your refund or replacement.
In addition to brain-numbing power increases, Cortex lets you adjust transmission shifts, move the engine rev limiter and change the speedometer calibration. You can also view a ton of stats like how fast your vehicle is smokin'g down the 1/4-mile after you've loaded the top-dog calibration.

Cortex (as shipped) supports programming a single vehicle. However, by design, Cortex units can be Internet Updated to support additional vehicles. Cortex is designed to support CARB & EPA compliance. As a result, custom tuning is not expected to be offered. Each Cortex unit is loaded at the factory with massive tuning databases meant to provide extremely broad vehicle coverage. Needs Update status occurs when Cortex does not have the necessary tuning files to program a vehicle. Just follow the Internet Update steps to get what you need. If files are ready you get them immediately; otherwise you will receive an e-mail as soon as they're available. Please run Internet Update on your Cortex. A "Standard Update" gives you the latest Cortex operating software and tuning for your vehicle. If available, "Data Acquisition" packages do this too, but also have special valued added features only Superchips supports - read each package to know what's right for you.
Now available for Chrysler, Dodge, Ford, GM and Nissan
NOTE: All Superchips Cortex tuning products for gasoline-fueled vehicles are either covered under CARB Executive Order numbers or in a pending state.
NOTE: All Superchips Cortex tuning products for diesel-fueled vehicles are Not legal for sale or use in California on pollution controlled motor vehicles.
You might find it intersting: 2011 Volkswagen NILS Electric Car