Triple Dog GT Diesel By Bully Dog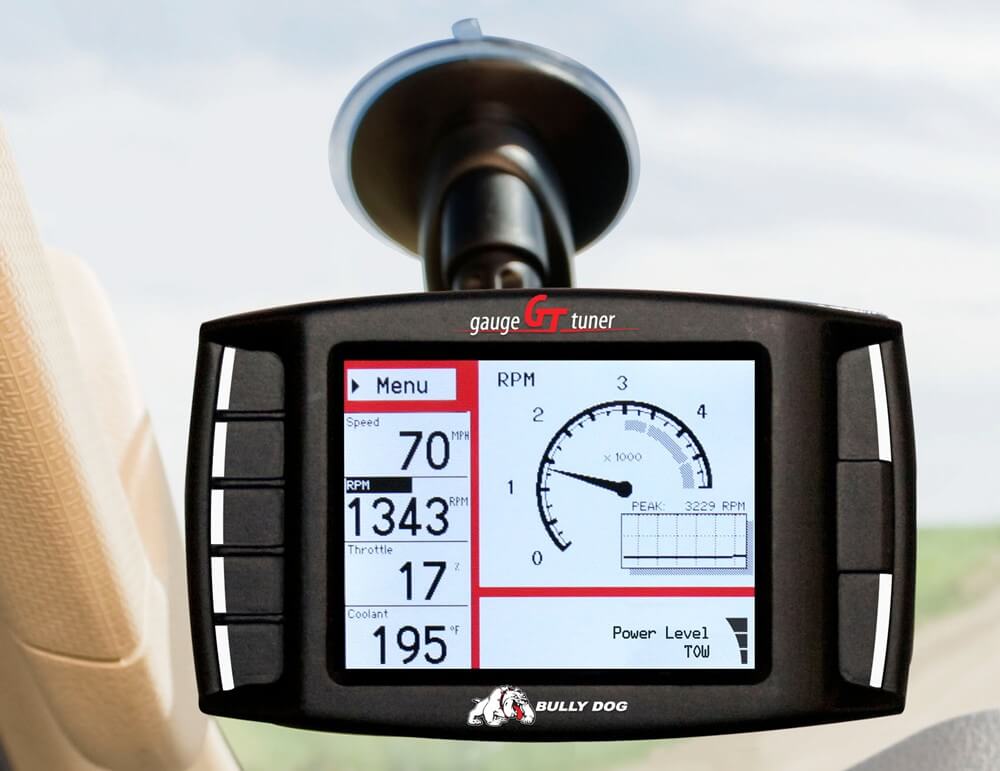 The Triple Dog Gauge Tuner is a vehicle engine tuner, monitor, gauge and diagnostic device all in a single unit. The GT dramatically improves the utility of several vehicle applications by providing an increase in horsepower and torque and by improving fuel economy through better engine tuning. The GT monitors and displays over fifteen different vehicle parameters (PIDs) and it includes our all new Driving Coach feature which teaches end users to maximize their vehicles fuel economy potential. The GT performs vehicle diagnostics by reading and erasing diagnostic trouble codes; this level of vehicle transparency isn't offered by any OEM or by any other aftermarket product. Also included is our performance testing feature designed to test a vehicles performance capability on the drag strip; couple this with our Free PC analysis software and users can also determine vehicle horsepower. The GT does it all and it works on most late model diesel pickups including Dodge, Ford and GM. The Triple Dog Gauge Tuner for diesel applications is available at Bully Dog® 40420 - GT Platinum Programmer page at CARiD.com, our preferred supplier of performance accessories for more than 2 years.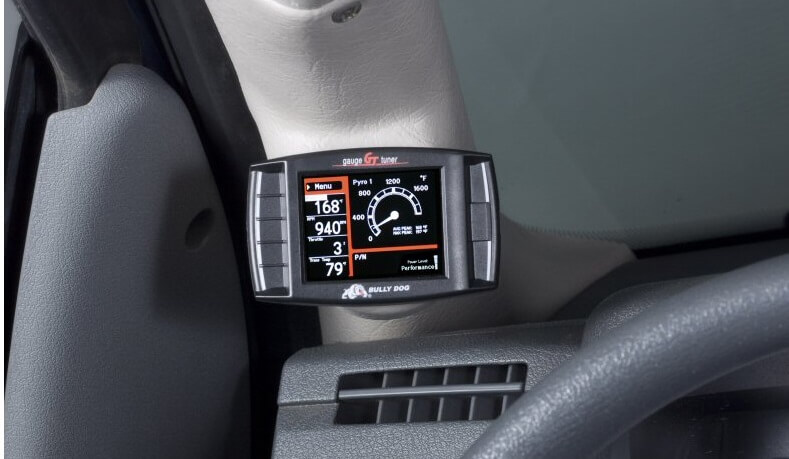 Features:
Huge horsepower and torque gains (over 100 hp);
Improved engine efficiency (fuel economy potential);
Four On-the-fly power levels;
Safety Defueling;
Loads of download features ie. Speedometer calibration;
Display over 15 vehicle parameters (PIDs);
Read and Erase Diagnostic Trouble Codes (DTCs);
Vehicle Performance Testing (including drag tree);
Free Performance Testing Software for PC online;
Exclusive Driving Coach feature, Patent Pending;
Full Color display with multiple color themes;
User set daytime and nighttime driving modes;
Easy Installation;
Free internet updates and upgrades;
Initiate DPF burnoff on `09 GM and Dodge diesel.

The GT is one of the most technologically advanced tuning and monitoring devices available in the market place, second only to our Performance Management Tool (GT). The GT includes our Patent pending feature called the Driving coach which assist users in maximizing driving efciency. Using the driving coach feature end users can see improvements in fuel economy that will save enough money on their monthly bill to completely ofset the cost of the GT itself. This product is a relatively easy product to install, if installation assistance is required this product can be installed by any Bully Dog dealer and can also be installed using the assistance of our technical support team.
Hold on tight because Bully Dog provides the best engine tuning in the market place. Our mainstay and the entire reason we are in this business is to provide high quality engine tuning aimed at improving your driving experience. Proper tuning is key to achieving that teeth gritting adrenaline pumping horsepower so we place our focus in tuning all applicable vehicle systems, not just peak horsepower. We tune vehicles to perform at every point in the RPM range and we always look to other areas of improvement such as the transmission so you can experience excellent performance in any driving situation you encounter.